DS3/DS4 Coaxial Cable Assemblies
We can satisfy all your digital coaxial cable needs with ease with our customized assemblies. These interconnect cables are designed to carry DS-3 and DS-4 transmission rates between devices such as multiplexers, cross-connects and transmission equipment. Industry standard, multi-conductor 734 and 735 coaxial cables are available in lengths up to 300 ft., with straight or staggered connectors and are coiled or finished on reels for easy deployment at your job site. Custom labeling and marking services are available to help identify your products.
Speak with one of Litra's product experts at 800-445-4617 to see how flexible and responsive we are.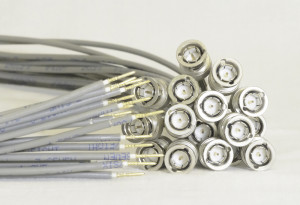 Features
Premium performance, flexibility and multiple cable configurations

Simplex and Duplex type 735A assemblies in 6, 8 & 12 Pack styles, any length

Connector types: BNC, Mini-BNC, MCX, 1.0/2.3
Contact Litra for More Info
Single or double-ended assemblies; straight or 90 degree BNC connector types

Coax with tracer wire assemblies

734C coax with BNC/BNC for long distance DS-3
Contact Litra for More Info